---
Folk Dance Federation of California, South, Inc.

Interview with Alexandru David
1984
By Laurie and Mitch Allen
---
CLICK AN IMAGE TO ENLARGE
ALEXANDRU DAVID was born in Kishinev, the capital of Russian Moldova, and raised from age five in Bucharest, Romania. At the age of 14, after spending three years in the Romanian State Ensemble Ciocirlia program, he joined a different ensemble, Perinița. In 1972, Alexandru left Romania and lived in Paris doing stunt work in movies – something he had done also in Romania. In 1973, Alexandru finally escaped the doom of Communism several years after Mihai's defection in 1996. Alexandru has choreographed many suites for dance groups around the world, including Les Sortilège in Montréal and Vonnie Brown's group in Louisiana. Although at first, Alexandru was known as "Mihai's brother," it wasn't long before Alexandru established himself as an instructor of both Russian and Romanian dance.

---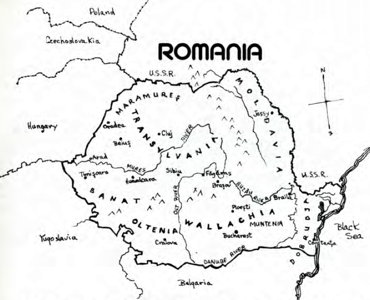 WHY DO YOU TEACH RUSSIAN MATERIAL ON TOUR?
I have been studying Russian dance because I was a child at the Pioneer Palace in Bucharest. At age 12, I joined the Romanian State Ensemble Ciocirlia. They had a school that trained you to be a professional dancer. The school was based on the Russian method, first ballet classes, then classes in Russian and Romanian character dance. I spent three years in the program, then (at age 14) joined a different ensemble, Perinița. The training there was the same: one ballet class a week, two in Russian character dance, two in Romanian character dance. The shows we did also included some Russian dance. Some of our teachers were Russian as well. One is still director of the Romanian army ensemble.
I didn't learn my russian dances in Moscow. I was only there a few days and didn't do much. But I did spend some time in Kishinev, the capital of Russian Moldavia, where I was born. They have a big state ensemble called Joc. I met the choreographer of this ensemble and we worked together for a while. Since coming to the United States, I work whenever I can with the Russian ensembles that come here on tour.
---
DESCRIBE YOUR SCHEDULE FOR 1984
It started in Germany at the beginning of the year. That was the third time I had been there last year. I got back in January and spent a week here before flying to Taiwan. I was there for twelve days over Chinese New Year. The camp was in a Catholic church on top of a mountain near Taipei. I had groups of students from all over the island.
Then I went to Hong Kong, where they had greatly improved since my visit three years before. And they were wonderful people. We had a weekend on a small island inhabited by fishermen. There were over 100 people there, teachers from all over Hong Kong. There also was a group in Macao, but I didn't teach them.
I came home for one day the flew to Australia; the flight was cheaper than flying from the Orient. It was a short trip there because they didn't know me yet. I taught in Brisbane, Sydney, Canberra, Adelaide, and then back to Sydney. Then I flew to Auckland, New Zealand and taught in ballet schools and for folk dance groups there.
After a week home, I went to Montréal to do a choreography for Les Sortilège, the professional ensemble there. Then to Louisiana State, Vonnie Brown's group, to do a Romanian suite. Then a Russian suite for a group in Indianapolis. I'll go back and see these groups over the summer to see how they're doing.
Then I spent five weeks on the East Coast, then home. Tomorrow, I am leaving for Europe – Germany and Switzerland – where I have done summer camps for several years. Mihai and I have a camp on the East Coast in August. In October I tour Alaska. Then Montréal and parts of the East Coast. I'll be home toward the end of the year.
---
HOW DID YOU MAKE YOUR FIRST CONTACTS THAT GOT YOU STARTED IN EUROPE?
In Copenhagen, one of the former dancers with the Romanian State Ensemble is teaching Romanian dance at the Folk Dance Institue there, a private school with over 500 students. I set up my Danish workshops through him.
The same in Holland. I met Ciga Despotovć when he was here and he arranged a tour for me there. I have been to Holland three times, including one tour that lasted three months. It is a little country, but they have about 300 folk dance groups. They're fantastic dancers, and there are a lot of young people.
In Europe, the countries are so small that people go across the border for folk dancing. I had some Germans attend a workshop in Holland, that started my teaching in Germany. I also got names of contacts from Stockholm and Oslo. There is a Scandinavian Folk Dance Federation that is for international folk dancing in Norway, Sweden, and Denmark. No one knows about Finland.
In Stockholm, there is a folk dance institute as in Copenhagen. People register for courses that generally last three months. I've taught through the institute, and also Russian character classes through the state ballet school. And I did choreographies for some local Russian performing groups. In Norway, there is an American who has a folk dance center in Oslo. Of course, there are other clubs as well. Scandinavian groups do international dancing, heavy on the Balkans. A lot of Balkan teachers tour in Scandinavia. They also do some American material.
I went Scandinavian dancing one night. It was in a big hall with over 100 couples dancing to one violinist. They danced non-stop, all night long. In a smaller, second room, they were doing more complicated dances. I saw many beautiful Scandinavian dances I have never seen before.
---
HAVE YOU SPENT A LOT OF TIME IN CENTRAL EUROPE?
Germany is the country in which I have taught the most. I've been in every corner of the country. There are a lot of groups, but little contact between them. In Switzerland, there is international folk dancing as well. The groups are in all major cities and include both young and old. I've taught mostly in the German part – Basle, Bern, Zurich. They do lots of European (primarily Eastern European) dances. They have weekend camps at resort hotels by beautiful lakes. Germany has similar camps, held in old castles. But unlike the United States, there is generally only one teacher for the camp, not a large teaching staff.
---
WHAT ABOUT THE ORIENT?
In America we are spoiled. If a foreign teacher comes here, we are suspicious and not always receptive. But if you go from America to Taiwan or Hong Kong, you are given a great deal of respect and attention. It was nice. Some of the folk dance leaders also are leaders of the community in Hong Kong, so they can do things for you. And the young people took me all over. Americans rarely do this for guest teachers. I'll never forget how wonderful they were.
In Taipei, almost all of my classes were students. They treated me like the President. They stood in line to shake your hand at the end. Unbelievable! The group was very quiet during class, very intelligent. They are there to learn, not to socialize, and master the skills I am trying to teach them.
Folk dance tends to reflect the culture. In Japan, I taught Floricica. I asked everyone to yell "Hey!" when they did a certain stamp. All the women were in a small circle in the middle, and at the right point they barely whispered "Hey!" Why? Because women are taught not to shout. They just wouldn't do it.
The first time I was in Japan, one of my most successful dances was a romantic Russian couple dance. In that culture, men and women rarely get a chance to touch each other, and this was an opportunity. They loved it. I taught the same dance in Holland and it was a flop. They didn't need anything that romantic.
---
WHERE HAVEN'T YOU BEEN THAT YOU THINK HAS INTERNATIONAL FOLK DANCING?
In Norway, I got an address for Iceland. But I haven't made contact there yet.
I've been in touch with people in Austria. They have institutes in Salzburg and Vienna.
Italy doesn't seem to have international folk dancing. Bora Özkök has been to France and I have been in touch with his contact there. There are a lot of groups and even a national folk dance directory. They're well organized in the different regions. I lived a year in Paris, so I'd love to go back.
I'm also looking for a contact in South Africa. Israel has dancing too.
When I was in Taiwan, I met two teachers from Singapore who invited me to tour Singapore and Malaysia. I plan to go back to the Orient in 1986 and will include those two places.
---
HOW ABOUT 1985?
It's not bad making your living by travelling. And yet, after five years of it, I'm getting tired. I plan to be back here at the end of the year to stay for a full year, take a sabbatical. I'll teach somewhere locally once a week. I still have a lot of Romanian and Russian material that people in Los Angeles haven't seen. Mihai and I taught our easier dances so far, only recently have we begun teaching the more complicated ones – Călușarii or some of the Transylvanian slapping dances.
---
HOW WOULD YOU COMPARE FOLK DANCERS FROM DIFFERENT PLACES?
Folk dancers are the same in all respects. In the Orient, you get much attention and respect. In the United States, on the other hand, particularly with beginner's groups, you have problems. Thay talk, don't follow, don't want to learn. I've been more successful here with good dancers than with beginners.
But they're not the same in all respects. In the Orient, you get much attention and respect. In the United States, on the other hand, particularly with beginner's groups, you have problems. They talk, don't follow, don't want to learn. I've been more successful here with good dancers than with beginners.
The Folk Dance Institute they have in Copenhagen is a good idea that might be looked into here. You register for a three month class, one or two nights a week. It gives continuity to the teaching.
---
WHAT ARE YOUR LONG TERM PLANS?
I want to settle down a bit. I have a general contractor's license, so I'll do some construction work. My only big commitment after this year is that tour to the Orient and Australia/New Zealand in 1986. I'll probably go to Europe occasionally, and will continue toi teach at folk dance camps in the United States. But it will be a more settled life.
---
Used with permission of the authors.
Printed in Folk Dance Scene, July/August 1984.
---