---
Folk Dance Federation of California, South, Inc.

The Intersection:
The End of an Era
By Athan Karras
CLICK IMAGE TO ENLARGE
---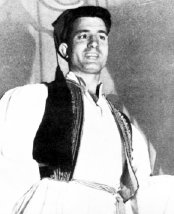 The Intersection's story is probably better told by her many patrons than by me, who was immersed in the management end and had a different point of view.
We tried, at the Intersection, to create a view of the many cultures evident in the L.A. area. In some cases, we achieved our goal; in others, we only superficially touched it. In every case we srove to bring authentic atmosphere to the place. The story goes deeper, because we were dealing with people and the special magic they bring with them. For many, the Intersection became a second home. We wanted to bring that feeling to the place, because that feeling allowed people to be cofortable and be themselves when dancing and interacting with each other.
The closing of the "I" isn't the end to that kind of experience, and certainly not the demise of folk dancing. Perhaps it will mark a new beginning for those who have always wanted to be more involved – to "do something." These people must remember that folk dance has to become a part of comtemporary life and culture, meeting the needs and desires of the young people of today. If it doesn't, folk dance will be like other museum pieces, fragile and precious . . . and isolated from the people.
No doubt, there will be many speculations as to why the Intersection closed – why this and why that, and what it could have been, what I did right and what I did wrong. Without question, all the speculations are probably correct. They are equally unimportant at this time.
The twenty years of her existence attest to the fact that the Intersection's story is one of success. In those twenty years, many changes had come about in our world – the economic picture and the centers of interest amongst the young, to name a couple.
There were a number of cues telling me that there was something wrong. We got increasing numbers of phone calls asking, "who's teaching," or "who's running the records tonight." This pointed out a kind of boredom setting in. The interest in learning dances diminished, and more and more emphasis was placed on special events to bring in the crowds. Even then, there were complaints ("the musicians are playing the pieces too long" or "too short," or "why don't we go back to records . . . they have more variety"). The supreme annoyance was when someone would come to the door and exclaim, "where is everyone" or well, there aren't too many people here tonight, so I don't think I'll stay." My response to this was to say "the next people who come will say the same thing if you don't stay." We built our crowd one person at a time. It always seemed that we would have either too few or too many people.
The last couuple of years had seen a decrease in young people entering the stream of folk dance devotees, with fewer teachers bringing in their students for "field studies." With normal attrition rates (people getting older, married, moving away, and so on), the lack of new people coming was keenly felt. Where did the yoiunger generation choose to go? The competition was keen – there was Disco, country western, jogging and aerobics, Hard Rock cafes, and MTV. All of these "glamorous" activities captivated the imagination and purses of the youth, so folk dancing had to take a back seat. While our once-jammed Friday nights barely pulled a hard core late in the evening, all over town the singles bars and "in" spots had people waiting on the curbs to get in so they could have one drink in a wall-to-wall crowd, not saying anything to each other, just hanging in, hanging out, and hanging around.
This is the reality I had to face when decision-making time came around. The forecast of the immediate future was that current streams were moving in another direction. It would be foolish not to have paid attention.
On the other side of the coin, one must say that there have been many beautiful and rewarding evenings at the Intersection. Thousands of friends were made and many accomplishments resulted from this 20-year affair. I feel good about having had a chance to play a part in it's existence and can say that it has touched my life in almost every way. I've learned many things by sharing so much with so many people. Certainly it will be one of the highlights in my life.
To those who have had the opportunity to visit the Intersection, to those who felt close to it, and to you who have sincere sentiments about it, let's all, wherever we are, toast to that special time when we came together and danced together and created a unity of expression (what I always felt was the "ritual happening") at the "I." May this have enriched your lives as it has mine, and helped to give a semblance of meaning to your lives in these times of austere anonymity. With this silent celebration, we can exchange with each other a "yasoo" and perhaps the silent voices of some may bring them together once again, to recreate a place where people can still find a hearth to warm their spirits in the hustle and bustle of a megalopolis such as Los Angeles.
Athan Karras
December, 1984
---
Used with permission of the author.
---