---
Folk Dance Federation of California, South, Inc.

The Intersection:
Farewell
By Athan Karras
CLICK IMAGE TO ENLARGE
---
ADIOSCHAOALOHARRIVERDERCIADIEUAUFWIEDERSEHENFAREWELL...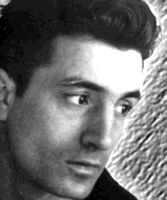 From the very first day the INTERSECTION was opened, back in 1964 – on Alavarado – I cannot begin to mention the dozens upon dozens of people who pitched in to help make it a reality. And it did become that and much more.
It took the Southland by storm with people coming from all over to participate. Without the concern, devotion, and support of so many folk dancers and others over the years, the INTERSECTION would never have reached the heights it did. But more than that, it became an idea, a concept whereby we injected into a community a kind of experience in dance that was very much needed to balance out the furor of modern inventions that faded in and out of our lives.
We are grateful to all of you who truly supported us. Believe it or not, there are some faces still around that go back to those days in '64 – and that's a lot to say for any business.
We have made hundreds upon hundreds of friends, and we certainly hope that this friendship will not stop. However, we are living in a time where change is commonplace.
The "changing of the guard" as I would like to call it, rather than "closing down," is perhaps the transition I have been trying to articulate these last couple of years, hoping that some innovative ideas would spring up to motivate and speak to those who like the exchange of song, dance, and ethnic food. But the currents are moving in other directions and the winds are pushing us along to move on, and so move we must.
I do not say that we were unique; for all over the Southland there are always festivals and international bazaars bringing thousands of people together to celebrate the same ideals we fostered at the INTERSECTION. But we can be proud of our many contributions to many organizations, universities, schools, and hundreds of other functions in which we participated.
We trust that the hundreds of friends that have passed our doors and embraced us with their enthusiasm over the years will still remain with us as friends, as I am sure our paths are destined to cross again in various places.
I want to personally thank each and every one of you, whether you came to the INTERSECTION once or hundreds of times, for your support, for becoming part of an idea which, I am sure, will emerge again in its own way to give dimension so much needed in our society today, especially because we are slowly becoming part of the automated era and quick anonimity.
Best wishes,
Athan Karras
December, 1984
---
Used with permission of the author.
---